VIRTUAL REALITY CONSULTANCY IN CORNWALL
.
Virtual reality has been slowly but surely making its way to the mainstream computing scene.
More than just video games, it is now used by many professional companies to promote their services, and as a tool for many other aspects of our professional lives. If you are interested in VR but feel unsure about it, give us a call or Contact Us and let's talk about it.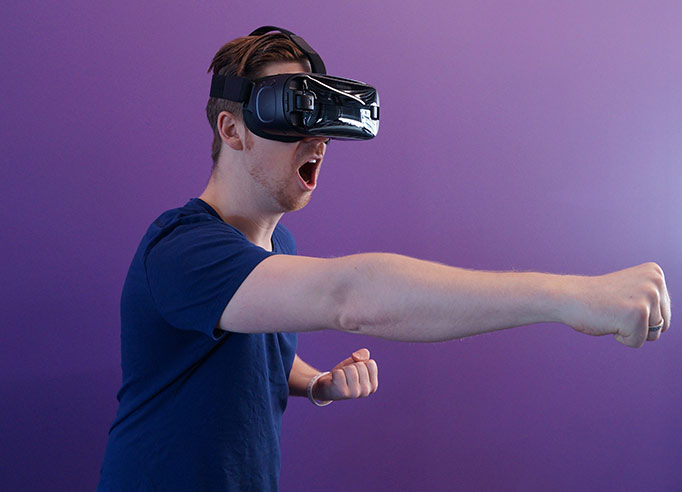 Whether you are looking to setup a VR gaming room, you are looking for VR as a tool for your business, there are many uses you can make of virtual reality.
We can advise you and help you setup your own VR systems, to project your IT and your business to the next level.
VR and gaming.
This is by far the most popular use of VR.
Setting up a full VR gaming room can be a tricky endeavour, and we can advise you and help set you up with the best VR setup based on your needs and affordability.

VR and business.
VR is a great visualization tool, and can be used as a great tool for businesses like (but not limited to) design and architecture firms.
Talk with us and we will show you the potential VR has to offer to your business.

We are experienced VR users.
We love VR, and we know about the best systems that are out there.
We can make the best recommendations based on our passion and experience in the virtual reality space.

Keeping your VR systems up to date.
As we will be familiar with your exact VR setup, we can make sure you know when your software needs updating, and we can even do it for you, for a system that will last.
When we make recommendations, we take all your needs into consideration, so you end up with a VR system you are happy and proud with.
We want you to reach that next level, whether it is for gaming or for your business.
For more information on how our consultations work, check our IT consultation services page.
Give us a call or send us a message, 
let's get the conversation started.
Virtual reality could be the next step that propels your business to its truest potential.
Why wait any longer, bite the bullet and let's make it happen today.
KEEP IT SIMPLE


THATS WHAT WE DO

.